Health & Safety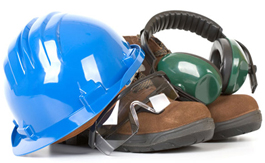 In any project, the safety of our personnel, the environment and the local community are paramount.
Rockridge engineering focus on safety emanates from the very top of our organization and is continually reinforced as one of the core tenets of Benthic's culture. We take a proactive attitude to risk management, continually reviewing and monitoring our procedures for the protection of human health, personal safety and environmental quality.
Our safety systems and procedures have been refined during years of regional deployments, often in difficult environments and extreme conditions. They are supported by extensive employee training and rigorous reporting, with daily hazard reporting during deployments.
Quality
 We aim to exceed our clients' expectations for service and quality, with services tailored to their unique needs.

At Rockridge Engineering, we strive to deliver the highest standards of service quality on every project.
We combine technological excellence with rigorous processes and a solutions-driven approach to meeting customer needs. The result is an industry-leading service tailored to your specific project objectives.
We are a client focused organization with the core objective of striving to deliver the highest standard of service in the markets where we compete.
To this end, we are continually looking for ways to improve our service quality and offer an enhanced client experience.
In particular, we aim to be flexible both in the way we interact with our clients and the types of solutions we offer.